Background
Having reached our latest and perhaps greatest second episode for the series here, it's time to move focus over to the bowels of the French musical underground for this next assorted artist. Going by the name of Allegiance (not to be confused with all the other countless unrelated metal bands with the same title), this Toulouse-based melodic quartet is quite a force to be reckoned with and, though they do not yet have too much under their belt just yet, they've thus far released a demo in 2016 and a full-length last year that's proven their worth at the very least to ourselves. Their themes revolve around fantasy elements mostly dealing with the mystical arts and other types of folklore, which fits the overall symphonic elements and foreground very well. You can find their stuff over at Blackwood Productions and without further ado let's get right to talking about the music!
About The Music
First and foremost, the debut release consisting of a short 19 and change minute long demo is just that: a brief demo of what's to come. This four track preliminary recording titled As The Entity Did Rise manages to showcase the early developments and compositions of Allegiance with just three five minute black metal songs in addition to a slightly shorter instrumental track to top it off. This early gem was released back when the group was a five piece and an independent band to boot, with a lot of DIY vibes obviously...so we will be sure to give the production and instrument tones some leeway.
The opening song starts out with some melodic tremolo riffing, a great deal of synth/keyboard action and feedback that segways into a blackened verse of standard shrieks and highs that are rather signature of the genre. The vocals on here are pretty cliche, yet they give off a kind of low-fi vibe all around, which makes up for their simplicity. There is some eclectic clean vocal chanting here and there, as well. The song even tops it off with the usual clean, acoustic outro that always seems to warm my heart and never gets old (lol).
The following track 'In Memory of My Essence' feels a hell of a lot like a typical 90s Emperor or Gorgoroth type of song, which obviously makes it my personal fave off the demo on principle. The melodic feels and ambiance really have a chance to grow on this particular song. Another thing I enjoy are the constant instrumental breaks in between verses, which are pretty par for the course when it comes to the genre but still a treat here as they are dragged on extra long for a guitar solo, melodic riffing, keyboard action, etc.
The final two tracks are a very symphonic track with a lot of cleans in the centerpiece in addition to a very slow-moving instrumental outro song that is chock full of piano melodies, orchestral-like scores, subtle but great ambiance and more, respectively. The former stood out to me because of the band's ability and willingness to branch out and try something different with the vocals (i.e. vocal variety) in terms of the clean singing and chanting, which can be taboo at times due to how purist metalheads sometimes are in the presence of clean vocals aside from stuff like Belphegor. But they really stick in the end and give an extra spark of variety and somewhat innovation to the mix, since I never saw these sections coming. Kind of a ballsy move that worked out well. Finally, the latter instrumental track isn't too memorable but it still adds a nice touch and wraps everything up in a soothing end.
All in all, the demo earns an 8.5/10 for its above average sound quality and musical variety as well as musicianship itself. There is a ton to listen to and admire when it comes to the instruments and the eclectic nature of the vocals is a definitive plus whenever it comes to this type of music for me. It's short, but sweet for any black metal kvlt fanatic that may come across this one.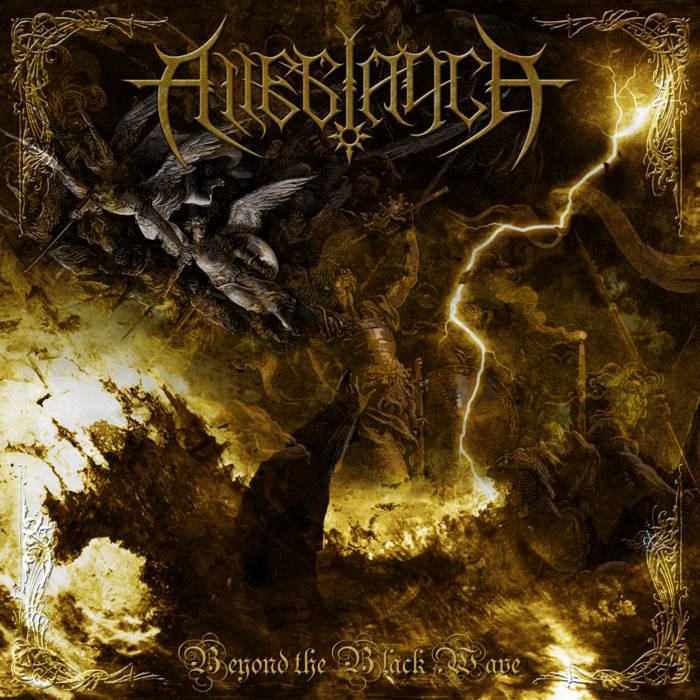 Now, the full-length titled Beyond The Black Wave is much more fleshed out and obviously longer (around twice as long as the demo) version of the previously discussed As The Entity Did Rise. This one was released in October of 2018 and consists of eight modestly lengthy songs. The album sets off with an Immortal type of opening with an acoustic, slow-moving guitar that leads into some black metal Gothenburg riffs and the usual madness to come.
In general, the first song is really a buildup for 'The Fall of Black Heroes', which is the release's first actual song. And, the first actual song here is actually pretty damn, hellish good! What, with all the juicy blackened and symphonic vibes of the preceding demo and everything else thrown in due to the overgrown budget, it's really a walk in the park to figure out what makes it all blend so well. The production quality is up to par now and the vocals are more in tone with the instrumentals than ever. The keyboard-synth melodies are also carried over from the demo, and are especially intricate in songs like 'I Wraith I Death', which also has a lot of the clean chanting vox that the demo also included; as well as 'In Memory of My Essence', which just feels like as 90s black metal worship as it truly gets here.
Personally, my faves were the aforementioned in addition to other similar songs like 'Shadows From The Pyre', which has a unique buildup and a rather proggy, structural vibe all on its own with the longer song duration, melodic bridge transitions, thrashy riffs in between the synths and the kvlt ending, as well. The closing track is another worthy mention despite its longwinded intro. However, there are still some parts of other songs that are deserving of the title "filler". There is quite a bit that could've been dropped or cut out and I kind of hoped for more of the eclectic vox that was present throughout the shorter demo. But, all in all, still more hits than misses here.
Overall, the full-length gets an 8.5/10 as well. Though it's a newer release that includes better production quality, it's still more of the very same here. Beat for beat, it's a lengthier version of its predecessor, though with a tad more creative and greater performance.
The Verdict
Please, I really encourage all readers and regular metalhead listeners to check out Allegiance from France, whether it be their demo or full-length release. Both are pretty solid in execution and songwriting and both are a testament to the notion that truly great black metal music is a worldwide phenomenon. Though I laud them positively here in many fashions, I still think there are a few avenues that the band could explore in the future in order to elevate their own music to amazing heights, especially within the guitar/vocal departments. But even still, this exists as an up-and-coming blackened metal project well deserving of some attention far and wide...and receives a 9/10 on our site ultimately due to the band's consistency, creativity and across-the-board blackened energy.
Fave Tracks: 'In Memory of My Essence', 'The Fall of Black Heroes'
For Fans Of: symphonic & melodic black metal
**Check out some more of the band's material and merch here!**
-------------------------
Support your fave artists and musicians!
-Review by: Dave Raffy
Musician, reviewer, fan & promoter
If you enjoyed this article, be sure to share it with others to help us grow. You can also like and follow us on the social media of your choice with Facebook, Twitter, and Instagram, and support us on Patreon.