Gigan is a technical, psychodelic death metal band based out of Chicago, IL. I was turned onto these guys a few years ago, and they are severely underrated. If you like your death metal on the insane side like Artificial Brain, Gorguts, Coma Cluster Void, etc. then you need to know this band. Their latest album comes out next week, but in the meantime you can hear a little more about them from the horse's mouth.
FlightOfIcarus: First off, how are you guys doing? We haven't seen an album since 2013? Why the long wait?
Gigan: We did two full headlining North American tours and two tours of Europe (one headlining and one as support to Ulcerate and Wormed) within the first two years after the last album was released. Then we had to renegotiate our new recording contract and decide what label we would be signing with. Then we had to schedule studio time and record. Contracts and legalities take time. We obviously resigned with Willowtip but there is a lot that goes on behind the scenes in those situations, so time passes quickly! All is good now and the new record will be released September 15, 2017!
I find myself having a hard time explaining your sound to new listeners. For those unaware of your music, how would you describe it? What's your "elevator pitch?"
That's a very good thing that you have a hard time explaining what GIGAN is! That's the whole point; to use your imagination and let it be whatever you want it to be. As far as an "elevator pitch"...I'd maybe say "aggressive psychedelic heavy metal music played with advanced techniques, high velocity and passion". Or something else...whatever works!
How's the recording process been for this new album? Has anything been different this time around?
We recorded with our longtime friend and ally Sanford Parker in Los Angeles California; in the Spring of 2017, at Big Bad Sound recording studios. It's was an awesome experience as always. This was our first time at Big Bad Sound but we always live at whatever studio we record at, to be totally immersed in the recording process. It was great time with even greater results.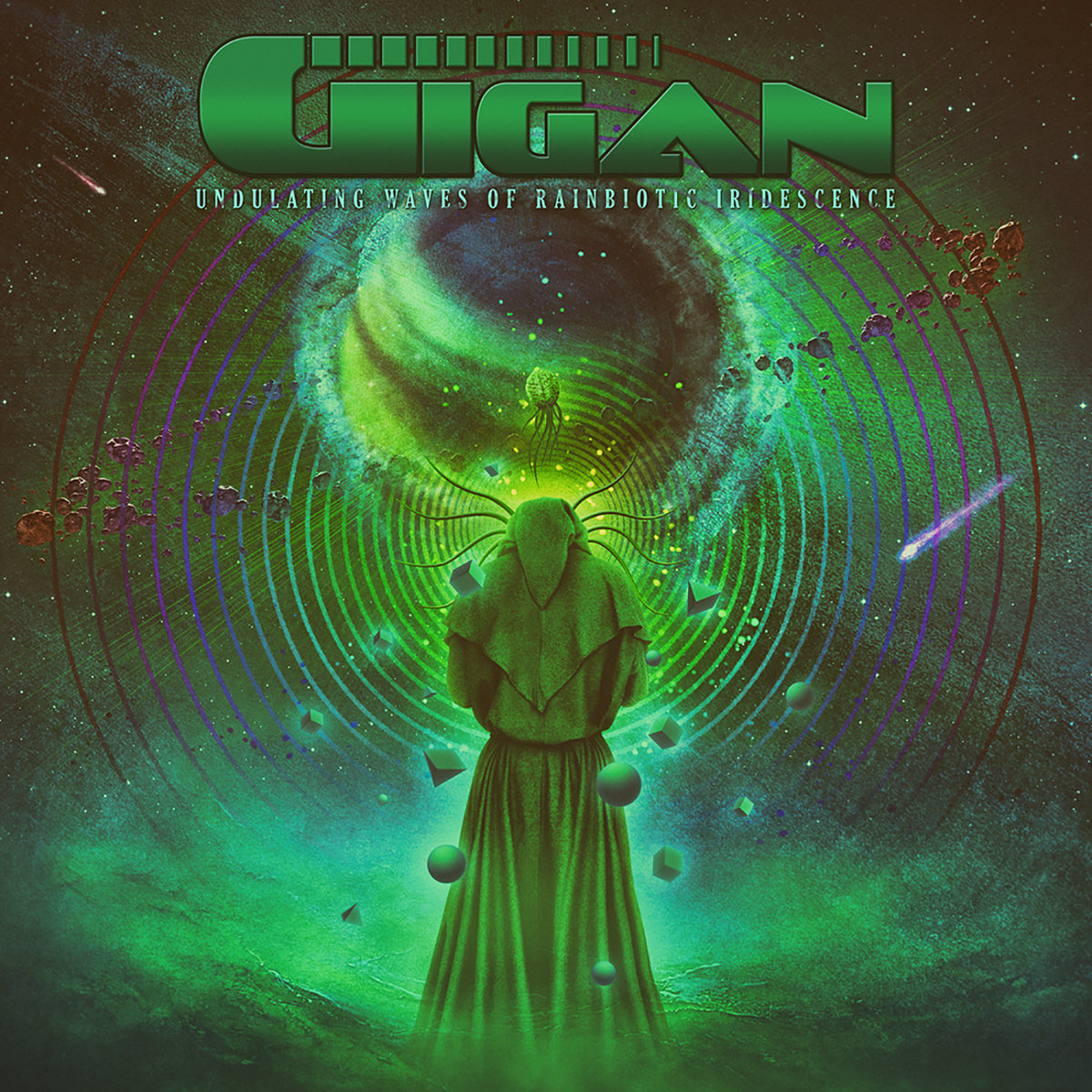 In my years of listening to your music, I just noticed the other day that you are from my hometown of Chicago. Did you guys grow up in the area?
I grew up in and around Chicago my whole life, aside from the nine years I lived in Tampa Florida. Nate (drummer) lives in California and Jerry (vocals) lives near Chicago on the South side.
Do you feel like the city influences your music?
I'm affected by all my environmental factors all the time.
What's been your favorite local act to play with? Lots of great names there. Favorite overall tour so far?
We have done a ton of touring over the years but I'd have to say my favorite was with Immolation. Our tour with Grave was amazing too. We did a tour with Cattle Decapitation that was super fun as well! Our European tours were killer, too. There are just too many to name them all, GIGAN has been touring for over 11 years. All the local bands we have played with in Chicago have been killer.
You recorded the new album in LA. That's a far cry from the windy city. Do you feel like the change in atmosphere has affected the music?
No, the music was written before we started rehearsals in California. If was a great environment to record in, though. Lots of positive vibes in California.
Returning to the new album, what can we expect sonically? You guys are known for taking an atypical, psychedelic approach to extreme music. Have you expanded on this at all? Any new surprises?
Just another wild ride through the GIGAN Universe! I definitely love it, though!
What about concept? Is there a particular theme or story behind this release?
No, just the ongoing themes of life, imagination, monsters and magick!
There is obviously a technical nature to your music, and people have different philosophies behind that. Does the songwriting come naturally and the band members are already just technically inclined, or do you find yourself actively trying to make things more complex?
It's completely organic and represents whatever I'm feeling when I write the tunes and what is in my head at that time. Nothing is contrived or planned in advance. I never make things complex on purpose. It's all me and my imagination at work, no one else is involved until we rehearse. Then it's instruction and repetition.
What would you say are the primary influences to your music; from bands and artists to books, politics, and everything else?
Whatever is inside my brain. Anything and everything. The world, the universe, monsters, magick, imagination. Nothing specific. No politics for sure.
What has been your favorite album so far? Favorite song? Why that choice?
This newest album because it's the freshest. I have a few favorite songs but it's all wonderful..
Anything else we should know about the new album or tour?
Lots of stuff is being planned both internationally and domestically. The first shows will be in Chicago, Lafayette and Louisville Deathfest. Those will take place in September 2017. As I mentioned the album will be released Worldwide through Willowtip Records, on September 15th 2017.
Pitch our readers an underground metal band that you think deserves more attention. Why should they check them out?
Check out Sunless from MN. They're neat and dissonant...dark and cool. Like the foreboding basement of a mental hospital.
Also, Jerry's (vocals) other band Elbow Deep has a new album out and they have developed a unique niche for themselves. SplatterPunk DeathThrash with a morbid sense of humor.
Thanks so much for your time!
Thanx for the interview and interest in GIGAN, hope to see ya at the Cobra Lounge in Chicago on September 28th! Or the Doom Room in Lafayette, IN on the 29th or Louisville Deathfest in Kentucky, on the 30th!
Stay tuned to www.facebook.com/giganmusic for news and tour updates! Thrash In Space!!!